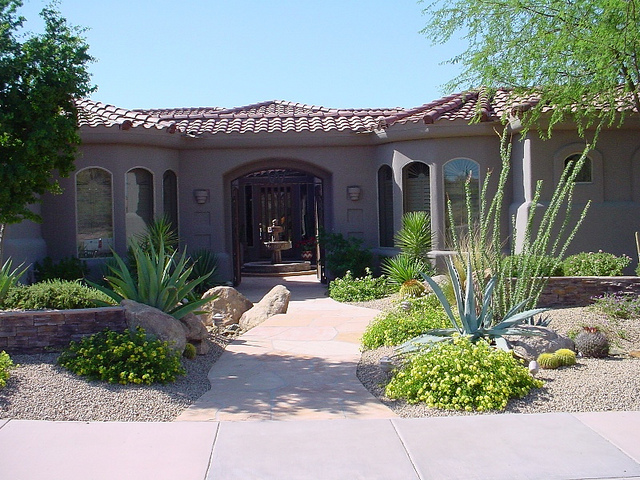 What kind of impression does your home make to passers by? Ask yourself, "What would a stranger notice first about my home?" Would they think to themselves how well-kept it was or would they immediately notice room for improvement? Bottom line, curb appeal can make all the difference when your home is on the market.
Here are some simple DIY projects you can do to increase your home's curb appeal.... 4 ways to crank up your curb appeal.
PAINT THE FRONT DOOR: A fresh coat of paint or stain can do a lot to make your home's entrance look fresh and inviting.

PLAY WITH FLORALS: Anchor the front entrance or walkway areas with some blooming container plants. Flowers can make any space look fresh and well-kept.

INSTALL NEW OUTDOOR LIGHTING: If your exterior lights are old, damaged or outdated, consider an update. Make sure the fixtures you choose are in line with the architecture of your home and you'll certainly see your home "in a whole new light." If purchasing new lighting isn't an option, consider cleaning the old ones.

GIVE THE FRONT YARD A FACE-LIFT: You can never go wrong with clean, well maintained landscaping. Consider adding a curved walkway toward front door, or maybe a curved garden area off to the side. Replacing straight lines with curved areas adds visual interest.
One of the best things you can do for your home's curb appeal is to keep the exterior clean and maintained. Fix any cracked windows. Mow the grass regularly and remove debris from the lawn. Keep shrubs trimmed and sweep the walkways. With just a little effort, your home can be just as appealing and attractive on the outside as it is on the inside.